Turkey to manufacture its own pneumococcal vaccine
Turkey to manufacture its own pneumococcal vaccine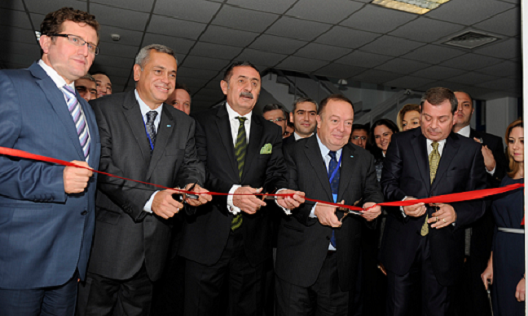 Pfizer has opened its third facility in the world following US and Ireland for the manufacture of Conjugated Pneumococcal Vaccine, which is a major global biotech product, in Turkey. The facility, which was opened on November 13 with the participation of the Deputy Turkish Minister of Health Agah Kafkas, has an annual manufacturing capacity of 75 million doses of vaccine.  
The vaccine, which is included in the Ministry of Health National Immunization Calendar and  used to immunize children born in our country against diseases like pneumonia and otitis media caused by the pneumococcus bacterium, is the first vaccine manufactured in Turkey with modern technology and starting from the formulation stage.  With this investment, Turkey becomes self-sufficient in pneumococcal vaccine, and a total of 21 million doses shall be delivered to the Ministry of Health within 3 years to be administered at Public Health Centers and Mother and Infant Health Centers.
The opening, which came right after 12 November World Pneumonia Day, was marked with the pride of manufacturing the vaccine developed against pneumonia, which causes the death of one child every 20 seconds worldwide. Pfizer Turkey Technical General Manager Suat Kumser; Pfizer Emerging Markets Regional President Ahmet Göksun , and Pfizer Biotechnological Products Operation Unit Vice President Mike McDermott gave information
about their operations in Turkey and their plans for major investments in manufacturing in the press meeting organized at the Kurtköy facilities of Pfizer's partner in this project, Mefar A.Ş.
First locally-produced vaccines to be delivered in NovemberPfizer Global Supply Unit Pfizer Turkey Technical General Manager Suat Kumser said that Pfizer, the global leader in the industry with USD 7 billion allocated for R&D each year, has been making investments in Turkey for over half a century, producing over 70% of its products locally and has exports of mostly sterile injectables to a total of 18 countries in Eastern Europe, Middle East and the Far East, including EU countries. Kumser continued: "Necessary phases such as facility and equipment investments, personnel training, and trial runs for the project, which is a first in our country for manufacturing a vaccine starting from the formulation phase,  have been completed. Production of validation series started in April-May 2012; and the required stability studies have been done. Switching the registration of the said vaccine from exported to local production has also been completed, and the first batch of locally manufactured vaccines is planned to be delivered for use end 2012."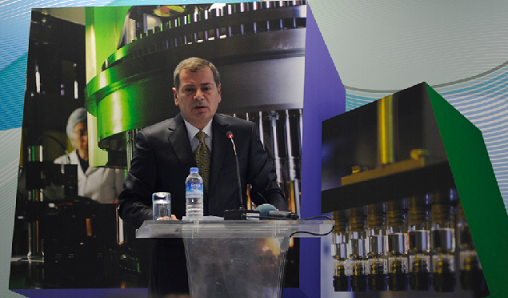 Birgi Mefar Group General Manager Şefik Renda said the following about the project: "This
significant project has started in 2011 by combining Pfizer's financial, technological and know-how support with Mefar's know-how and experience. Production phase started in April 2012. We are proud as the Mefar Birgi family that Pfizer, a global leader in this area, has chosen Mefar İlaç San. A.Ş. with its extensive experience in the manufacture of sterile injectables, know-how, and qualified personnel to manufacture its Conjugated neumococcal Vaccine for the first time in the world in a manufacturing site outside its organization."
New incentives in pharma offered by the Ministries of Economy and Health shall accelerate high added value biotech investments in Turkey, and within this scope, Pfizer shall evaluate new opportunities for investment Pfizer Regional President for Emerging Markets Ahmet Göksun said that Pfizer sees our country as the leader in its region, and believes it has significant potential for future investments. Underlining the fact that more than 70% of Pfizer products in the Turkish market are manufactured at the facilities in our country, Göksun added that our country is expected to be among the major hubs worldwide for many industries in line with Vision 2023. Göksun continued to say that they are excited to see the government positioning pharma among the strategic industries within the scope of its 2023 Industry and Investments Vision, and that as the industry partner they will continue to support the Ministry's efforts to create a better environment for attracting advanced technology investments. Göksun said: "The Ministry of Health's determination in encouraging investments played a defining role in Pfizer's investment decisions. Pfizer shall continue to realize new investment opportunities to contribute to the country's economy."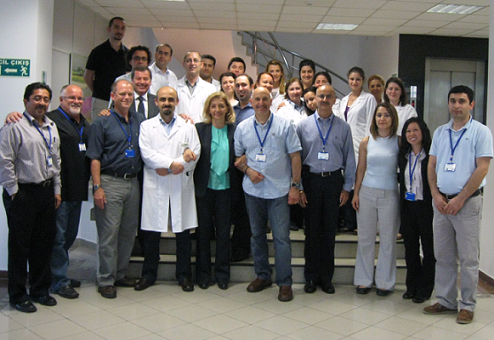 Pfizer Vice President for Biotech Production Operation Unit Mike McDermott said: "We are extremely happy to see what great an impact our products such as Prevenar 13 have  on various places in the world. I would like to thank in particular to the visionary Turkish government, who have made vaccination campaigns an important part of their agenda. My 5 daughters were vaccinated with Prevenar, and I had the opportunity to personally see the effects of the vaccine. I want to thank Pfizer, who have worked hard to bring this excellent technology to Turkey. I also want to thank Mefar. They played a significant role in making this production possible only in Turkey apart from US and Ireland. Finally, I want to thank the Pfizer Turkey team. They overcame enormous challenges and succeeded in manufacturing a product, which is biotechnologically very difficult to manufacture, in Turkey; and established very warm relations with us in the process. Knowing that Turkish children will have long and healthy lives thanks to this product is very exciting for me."

In the opening ceremony, Turkish Deputy Minister of Health Agah Kafkas said: "Here we have witnessed the rightful pride of a team who have achieved success and excitement. In the name of my country, I congratulate everyone who have played a role.   10 years ago, regretfully there was a Turkey where vaccination rates in some regions was below 10 percent.  Today we can say that vaccination rate is almost equal in all regions in the country, and almost everyone have been vaccinated. We have also covered a significant
distance in vaccine diversity. We have been following Pfizer's distinguished services to our country since half a century.  We see it as a significant step concerning the level of infrastructure in Turkey that local manufacturers such as Mefar cooperate with a giant like Pfizer and realize production under equal conditions.  What esteemed Pfizer executives say for Turkey are important.  Turkey is now a significant global player. Turkey being the operational hub for an international company today is a reason for prestige in certain geographies; it means something. We all know that the producing country also adds value to a product. Therefore, I would like to congratulate everyone who contributed.
  
The facility with an annual manufacturing capacity of 75 million doses meets our country's current annual demand for 6 million doses, and has the capacity to respond to increasing demand in the future, such as adult vaccination.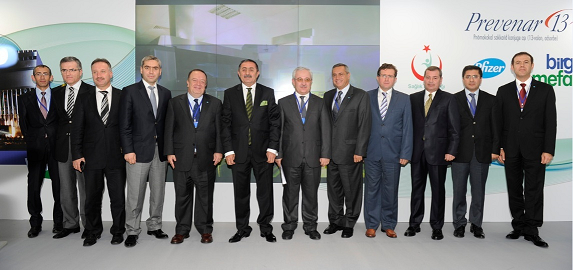 An international cooperation undersigned  A project team of 30 from Pfizer Turkey, 25 experts from Pfizer Global manufacturing sites, and a team of 35 from Mefar collaborated for the realization of the project. The vaccine to be manufactured in the facility, which has successfully completed the good Manufacturing Practice (GMP) inspection processes of the Turkish Ministry of Health and Pfizer Global Quality Management Group, is administered free of charge at Public Health Centers and Mother and Child Health Centers to all babies born in our country each year.
  
Pneumoccal vaccine Prevenar 13®, which has been included by the Ministry of Health in the National Vaccination Calendar in November 2008, is currently the conjugated pneumococcal vaccine with the greatest serotype coverage in Turkey and worldwide.