Pentavalent Vaccine Production in Turkey
Pentavalent Vaccine Production in Turkey
From the Project to a Reality
Pentavalent vaccine which is contrary to Diphtheria, tetanus, acellular pertussis, polio and Hib against infections are included in the Republic of Turkey Ministry of Health National Immunization Program in 2007.
Sanofi Pasteur has supplied a total of 13.5 million doses of Pentaxim vaccine. Later on, the Turkish Ministry of Health Turkey, moving forward from the philosophy of providing vaccine, has announced to file another tender within 2 years covering the first stage and second stage of blister packaging technology for vaccine filling process and technical knowledge (know-how) transfer a total of 12 million doses of pentavalent vaccine.
Sanofi Pasteur has mobilized all the opportunities to provide the technology transfer, feasibility studies conducted in order to build necessary project infrastructure and technical knowledge (know-how). Sanofi Pasteur has got the opportunity of being the first and only one to actualize the vaccine production in Turkey.
Partnership with Mefar
After examining of many probabilities and investigations, MEFAR was evaluated by all related departments of Sanofi Pasteur. And found worthy of praise for best infrastructure, global quality standards, well-trained human resources and strong points as familiarity with the Turkish authorities.
Founded in 1985, MEFAR is a contract manufacturer which is operating as conference to European Good Manufacturing Practice (GMP) to large number of global pharmaceutical companies in Turkey, Europe, the Middle and Far East.MEFAR company quality system is also certified and approved by the relevant companies and authorities in accordance to GMP (Good Manufacturing Practice) and ISO (International Standardization Organization) requirements.
Being Turkey's leading contract manufacturer in its own area, MEFAR has 495.000.000 annual product capacity of bulb, vials, bottles of BSF and along with the current project in respect of injectors.
Sanofi Pasteur has decided to establish a long-term strategic partnership with Mefar according to observation on how Mefar is maintaining the standards of high-level commitment and determination shown to this filling vaccine project.
With the contributions within all technical, quality, finance and administrative departments, a Quality and Technical Agreement was signed in October of 2009 along with a strategic partnership agreement between Sanofi Pasteur and MEFAR.
Project Teams
The project team which was commissioned for this project are established with the participation of MEFAR, Sanofi Pasteur Global, Sanofi Pasteur Production Facility and Sanofi Pasteur Turkey. About 75 employees that are experts in their professions and who played vital roles in this project, are operating in Industrial Operations, Quality Operations, Production Technology, Supply Chain, Finance and Control, Production and Packaging, Storage and Shipping, Cold Chain Management and various departments such as Warehouse and Quality Control. This project team is also supported and monitored by senior management of each of the parties concerned in the project.
There were 80 teleconference conducted between the parties about the project, procurement and licensing along with the participation of different committees. There were a total of 23 inspections conducted in Mefar facilities to support and monitor the quality and technical aspects of operations within the project.
Qualifications, Validations and Reports
After the installation of plant equipments or systems are tested by applying necessary test and methods for qualification and have approved in the compliance with GMP and international quality standards. After the development of the various validation studies, the production facility is proven to be ready for use related to global standards.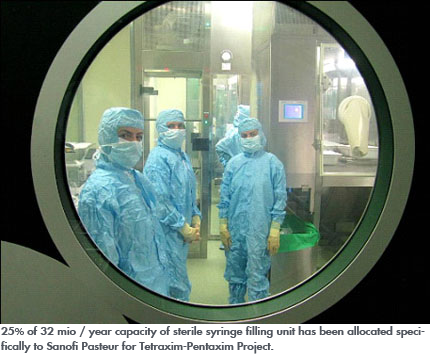 For Operations and Technical Information (Know How) and Technology Transfer
It was the time for testing the operation itself after installation of the equipment and systems are ready to use, for this purpose:
Performed installation functionality and accuracy of pre-defined parameters, between June 8 to 16 syringes of vaccine-like solution (placebo) was checked by filling and the test results have met the standards.
Sterility of the production line personnel working in manufacturing operations, including the sterility of production operation, between July 22 to 30 injectors have been checked by filling the media solution and test results have met the standards.
Qualifications, Validations, placebo-and medium filling (Media-Fill) test as all the actives mentioned above were conducted under the supervision of members of the project. Technical knowledge and technology transfer, in other words, the actual flow of information was the main target for success and indeed all the employees who share their expertise have supported the vaccine filling operation to ensure the success of the project.
Quality Perspective and Control
All activities carried out under the supervision of the quality department of Sanofi Pasteur. All the test results produced from the very beginning of the project, reports, protocols and procedures were reviewed and approved by authorized project team. Mefar facilities have been visited by Sanofi Pasteur quality employees on every critical steps over the project. There were 2 official audits conducted at the facilities in the last 11 months.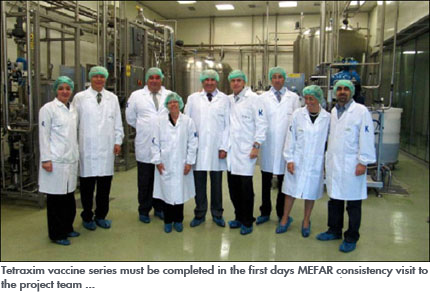 Filling and Visual Inspection
The most important and critical step of this project is to fill a tetravalent vaccine with sterile syringes. The subject of this milestone was reached on October 6, 2010.As of this date, 3 high quality validation samples were manufactured under the sterile conditions and samples from the batches were sent to Quality Control for testing.
Next Steps
Produced tetravalent vaccine (Tetraxim °), pentavalent vaccine (Pentaxim °) will be placed blister packaging with Act-Hib. The results of the stability tests will be carried out within five months.
Regulatory Affairs department, will apply to the Ministry of Health along the stability test results to license the product. This license is granted by the Ministry of Health which will be the first and only licence that is given for a vaccine produced in Turkey. Continuous production will start after the approval of the Ministry of Health and vaccines will be delivered to Ministry of Health in accordance with predetermined delivery schedule within the framework of Turkey's National Immunization Program.
This project which brought Ministry of Health, Mefar and Sanofi Pasteur together in order to reach the goal of producing vaccine is first of its kind in Turkey. In addition, another feature of this project is to be the first private sectoral project that is contracted with a state institution and very precise in compliance with the deadlines and delivery schedule.
This article was aimed to be written a short story of a project; However, it is not easy to explain the five-year dream and two years of hard work. This dream have started with the strong beliefs of the people who are pioneered this project. Then, turned into a reality by a vision of a member that operates in Ministry of Health.The people who turned this project to reality have felt the pride of the achievement. Willingness of the employees to reach the historical milestone in Turkey, cooperation, being ready and prepared at all times, adaptation talent, mutual working and passion played the key role in the realization of this project.
If you need to emphasize again, this project started from scratch and has found a life as the first and only vaccine manufacturing practice.
Below are the people who believe in this vision, passion, commitment and determination.